With the share price of Texas-based power utility Vistra dropping by as much as 3.9% in today's trading session, this stock passed one of my screens late in the afternoon and I opened an OTM covered call trade by purchasing shares at $16.74 and selling Apr-16 $17.00 calls at $0.58.
The annualized static price return on this trade is 38.3% and the maximum possible annualized return at expiry is 61.6% which would occur if the share price is above $17.00 on April 16.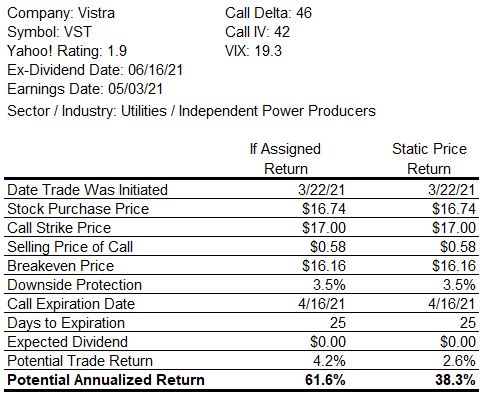 As the price chart for Vistra illustrates, this trade is not without risk.  For an explanation of the sharp price decline at the end of February and a fairly in-depth analysis of Vistra from an investor's perspective, you can read this post at SeekingAlpha.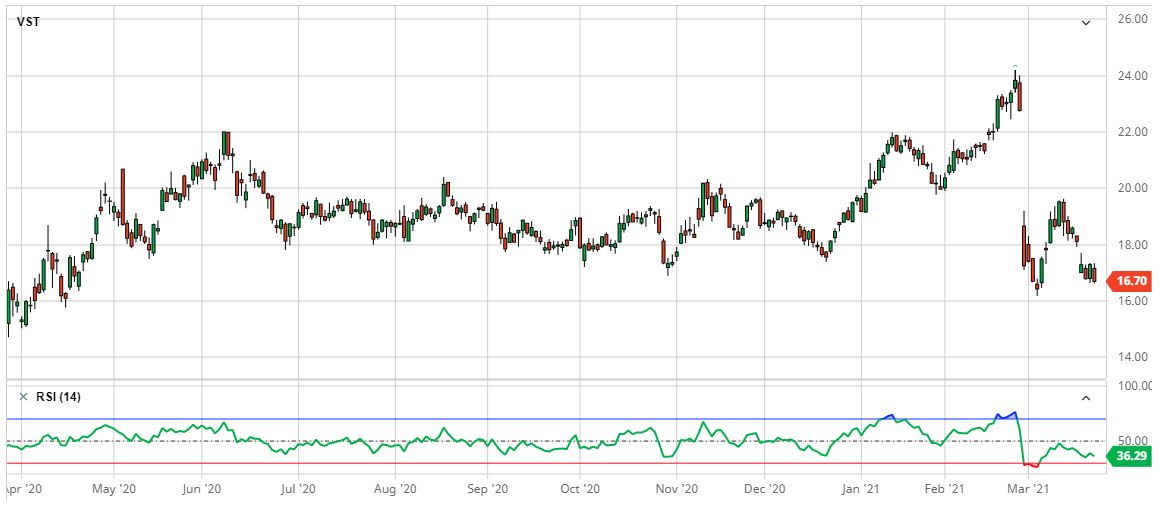 For anyone not familiar with Vistra, the following company overview is from their web site:
Vistra is a leading, Fortune 275 integrated retail electricity and power generation company based in Irving, Texas, providing essential resources for customers, commerce, and communities. Vistra combines an innovative, customer-centric approach to retail with safe, reliable, diverse, and efficient power generation. The company brings its products and services to market in 20 states and the District of Columbia, including six of the seven competitive wholesale markets in the U.S. and markets in Canada and Japan, as well. Serving nearly 4.3 million residential, commercial, and industrial retail customers with electricity and natural gas, Vistra is one of the largest competitive residential electricity providers in the country and offers over 50 renewable energy plans. The company is also the largest competitive power generator in the U.S. with a capacity of approximately 39,000 megawatts powered by a diverse portfolio, including natural gas, nuclear, solar, and battery energy storage facilities. In addition, the company is a large purchaser of wind power. The company is currently constructing a 400-MW/1,600-MWh battery energy storage system in Moss Landing, California, the largest of its kind in the world.