June 14
Corning (GLW) – Partial Covered Strangle
The price of Corning dropped by 4.3% and I had an open covered call so I sold some Jul-17 $39.00 naked puts for $0.40. I sold fewer puts than the calls I sold previously.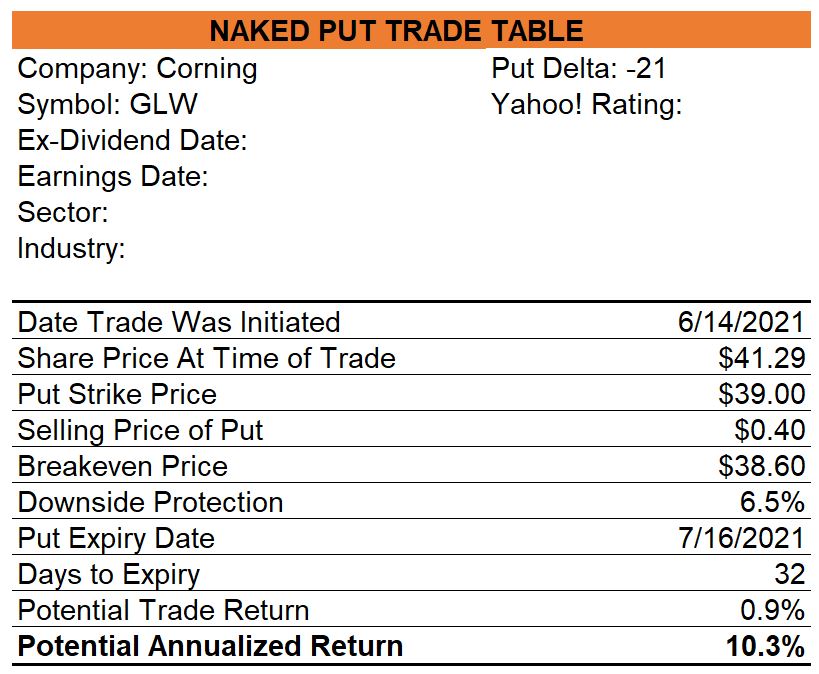 American Eagle Outfitters (AEO) – Covered Call Opened
I bought shares of AEO and sold OTM Jul-17 $37.00 calls for $0.82.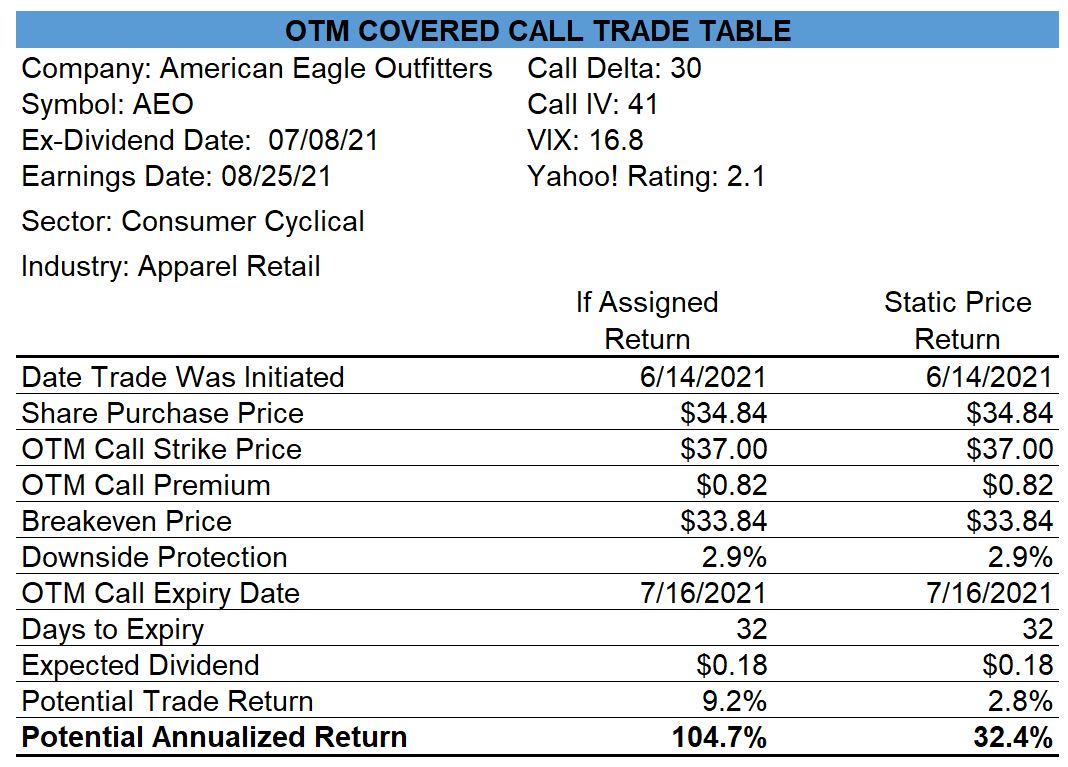 June 17
Steel Dynamics (STLD) – Covered Call Opened
When I opened this trade, STLD was down 5.5% from the previous close so it felt very uncomfortable. I considered an ITM covered call but based on my short trade history, I know that I am likely to get better trade results with OTM calls so that is what I sold.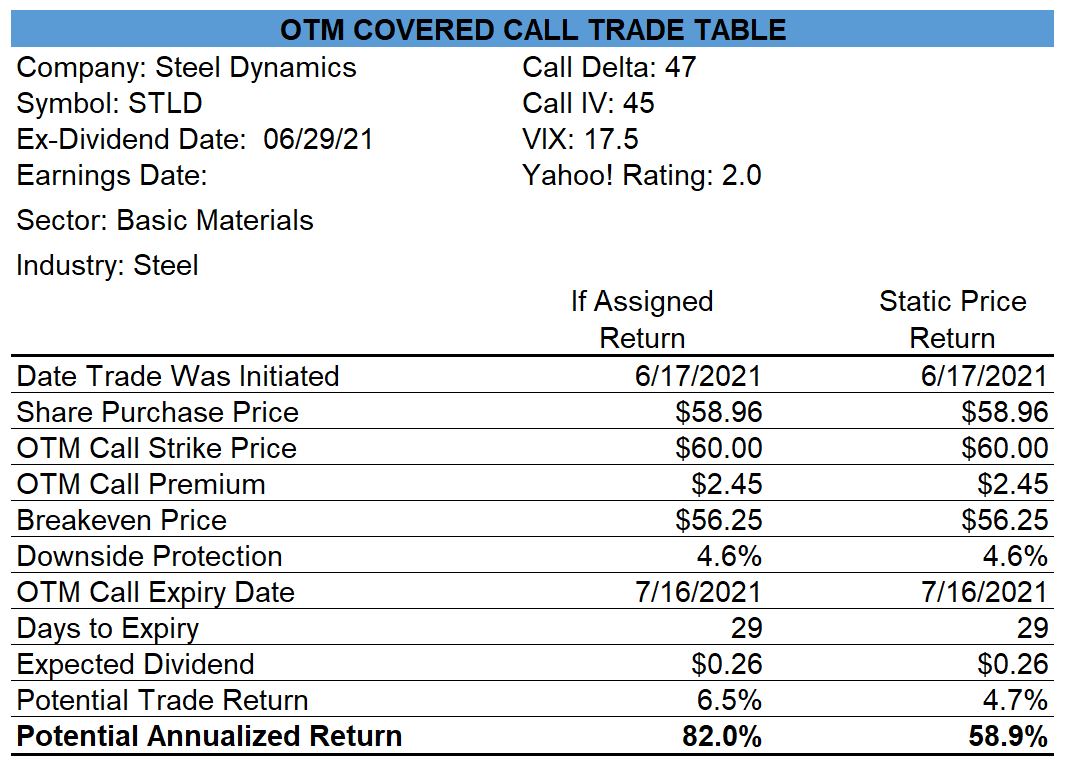 Barrick Gold (GOLD) – Covered Call Closed
One of the first covered call trades I initiated earlier this year was with GOLD when I bought the shares for $19.85. The first calls I sold expired worthless. I sold a second set of calls and bought them back. I sold a third set of calls and bought them back today. The net call premium received was $1.49 and the annualized trade return was a very healthy 50.5%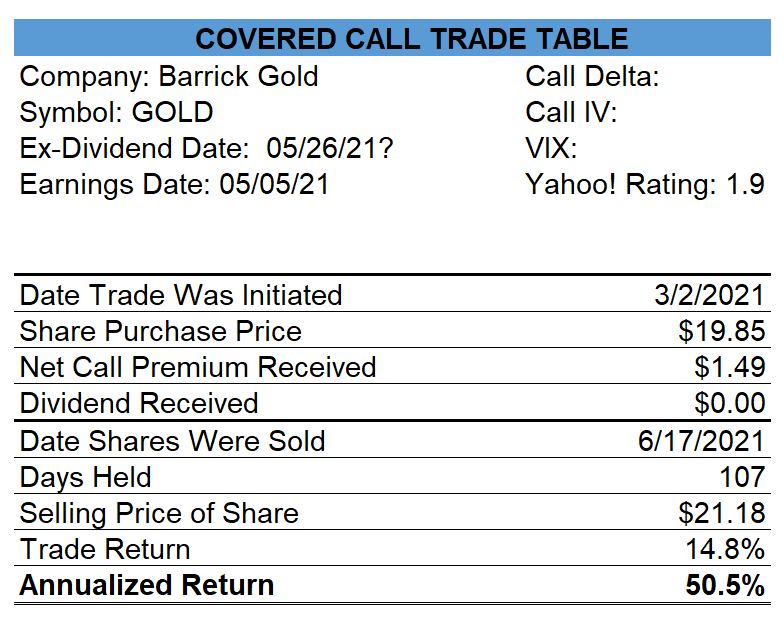 June 18
Chevron (CVX) – Covered Call Opened
Late in the trading session, I purchased shares of Chevron for $103.73 and sold OTM Jul-16 $105.00 calls for $2.53.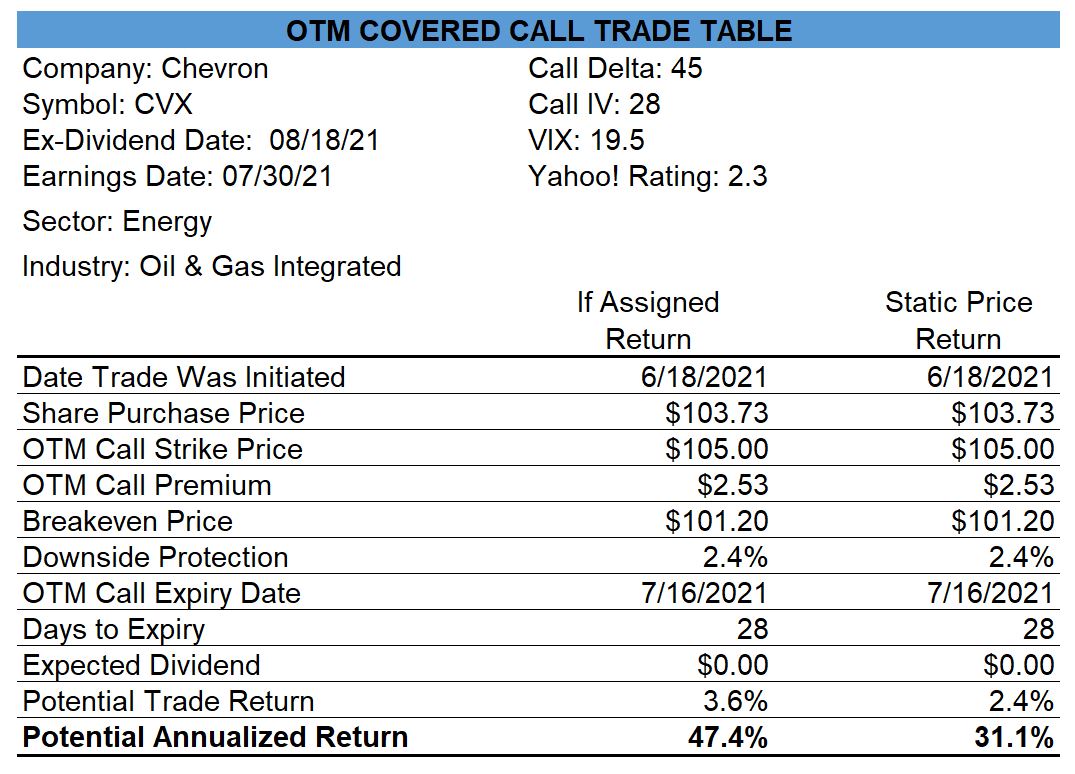 NRG Energy (NRG) – Covered Call Closed
I sold Jun-18 $36.00 and $37.00 covered calls in May. Given that NRG closed at $36.80 today, some of my NRG stocks will be assigned. I will sell the remaining NRG shares on June 22. The covered call trade with a $36.00 strike price generated an annualized return of 56%.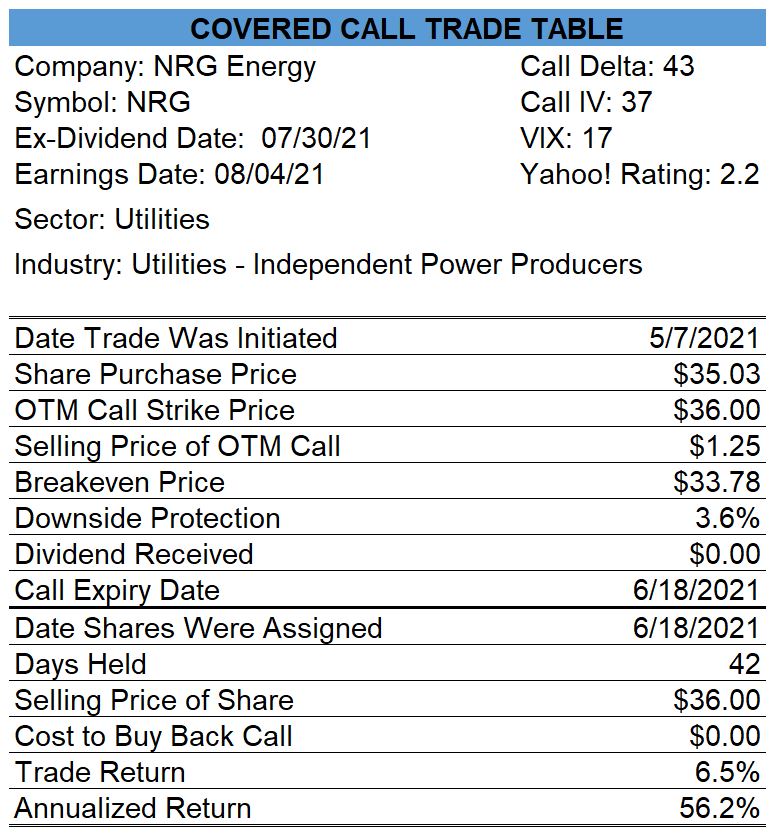 Comcast (CMCSA) – Covered Call Closed
Comcast closed at $56.67 so the Jun-18 $55.00 covered calls that I sold will be assigned. This trade generated an annualized return of 32%.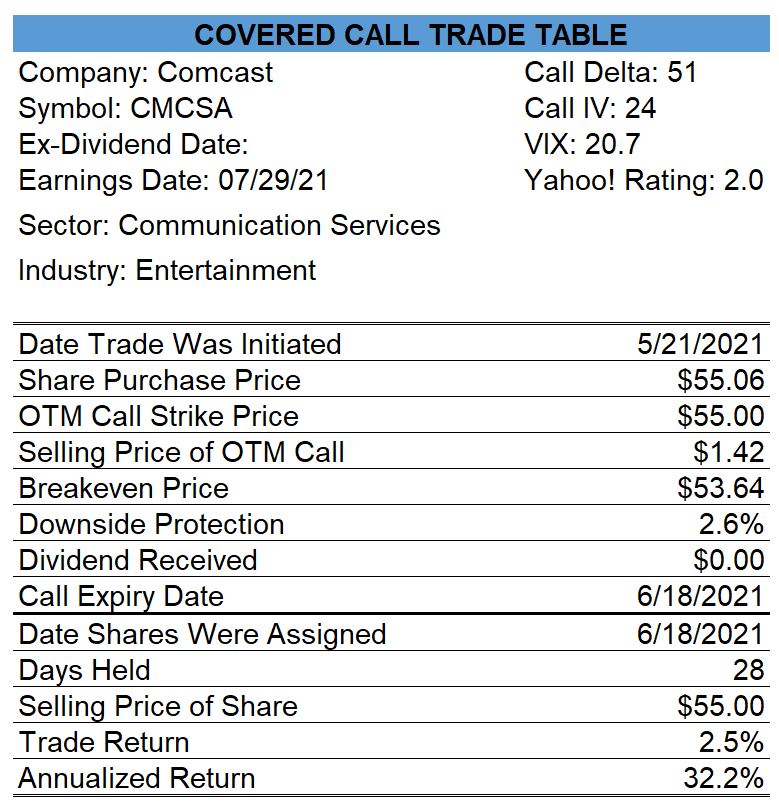 Vale (VALE) – Covered Call Closed
My most profitable covered call trade for the June 18 expiry came from Vale which produced a 91% annualized return over a 22-day holding period.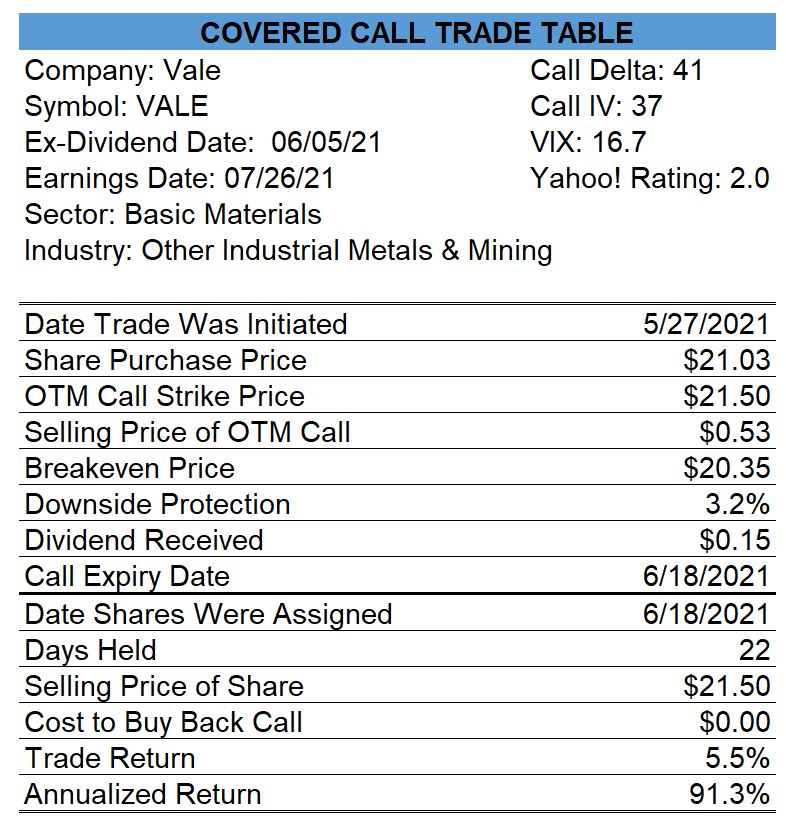 Closed Naked Puts
I bought to close naked put trades for SCCO and PENN. My other Jun-18 puts expired worthless. With 92 naked put trades closed, my average annualized trade return is 19%.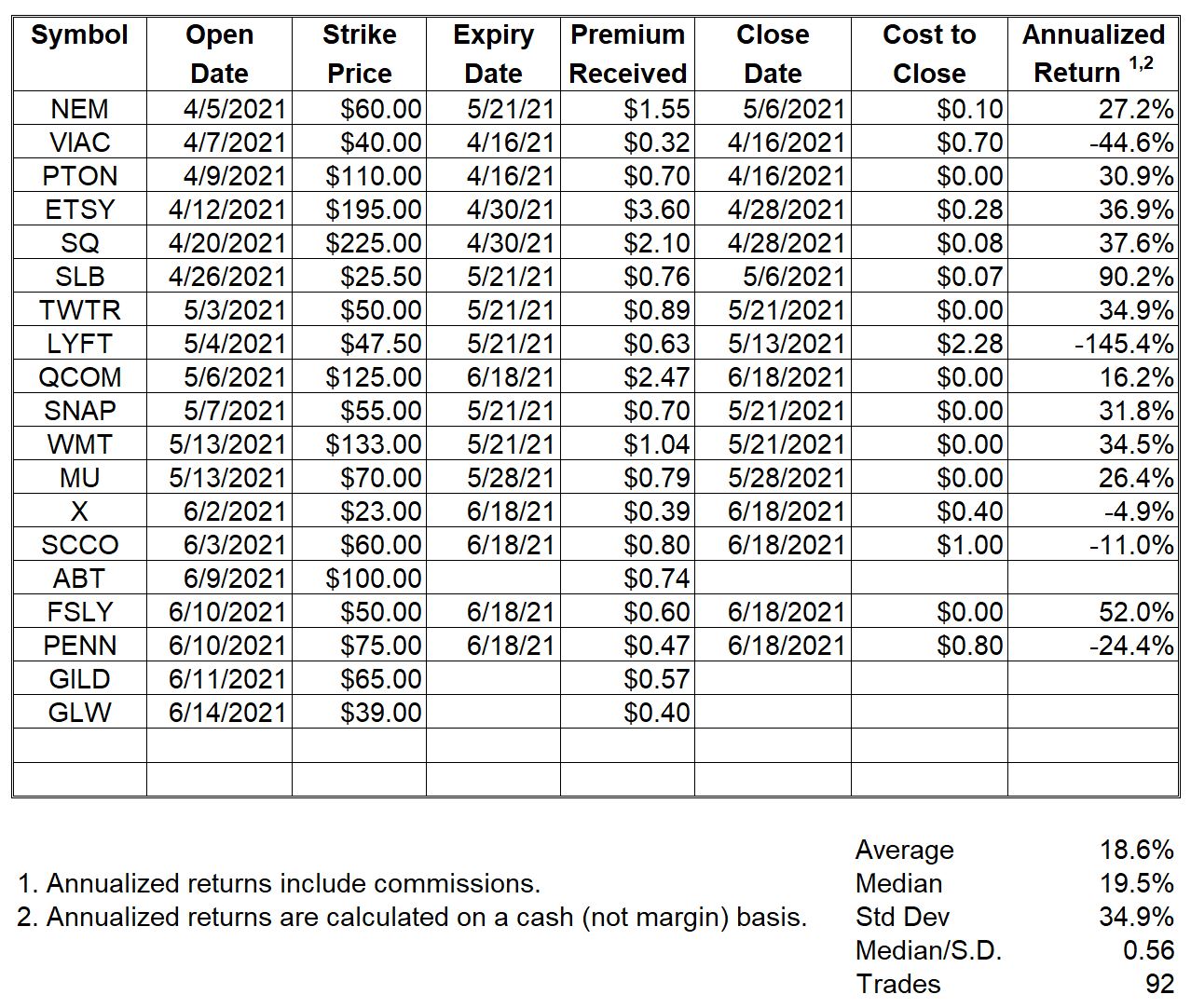 Overall, I am pleased with the performance of my rules-based covered call and naked put trades. Of course, much of that is related to the broad stock market movements and those have been in my favour. In an upcoming post, I will compare the performance of my covered call trades against buying and holding SPY. Spoiler alert – my trades have outperformed.
For those of you who follow my stock option trades, I hope my posts inspire you to develop your own trading strategies which provide better returns than buying and holding the broad market.
All the best in trading and in life.