Trader Education
I am currently reading Alpha Trader by Brent Donnelly. Brent's trading style is vastly different than mine but there is definitely some useful information in his book and I have no trouble recommending it if you are looking to expand your trading knowledge.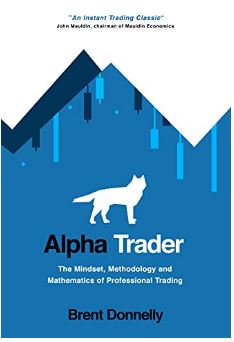 Covered Call Trades Closed
I had a number of calls that expired on November 19. This was the first time this year that all my calls expired OTM. That is partially the result of me selecting further OTM strike prices but also the result of the stocks not performing well.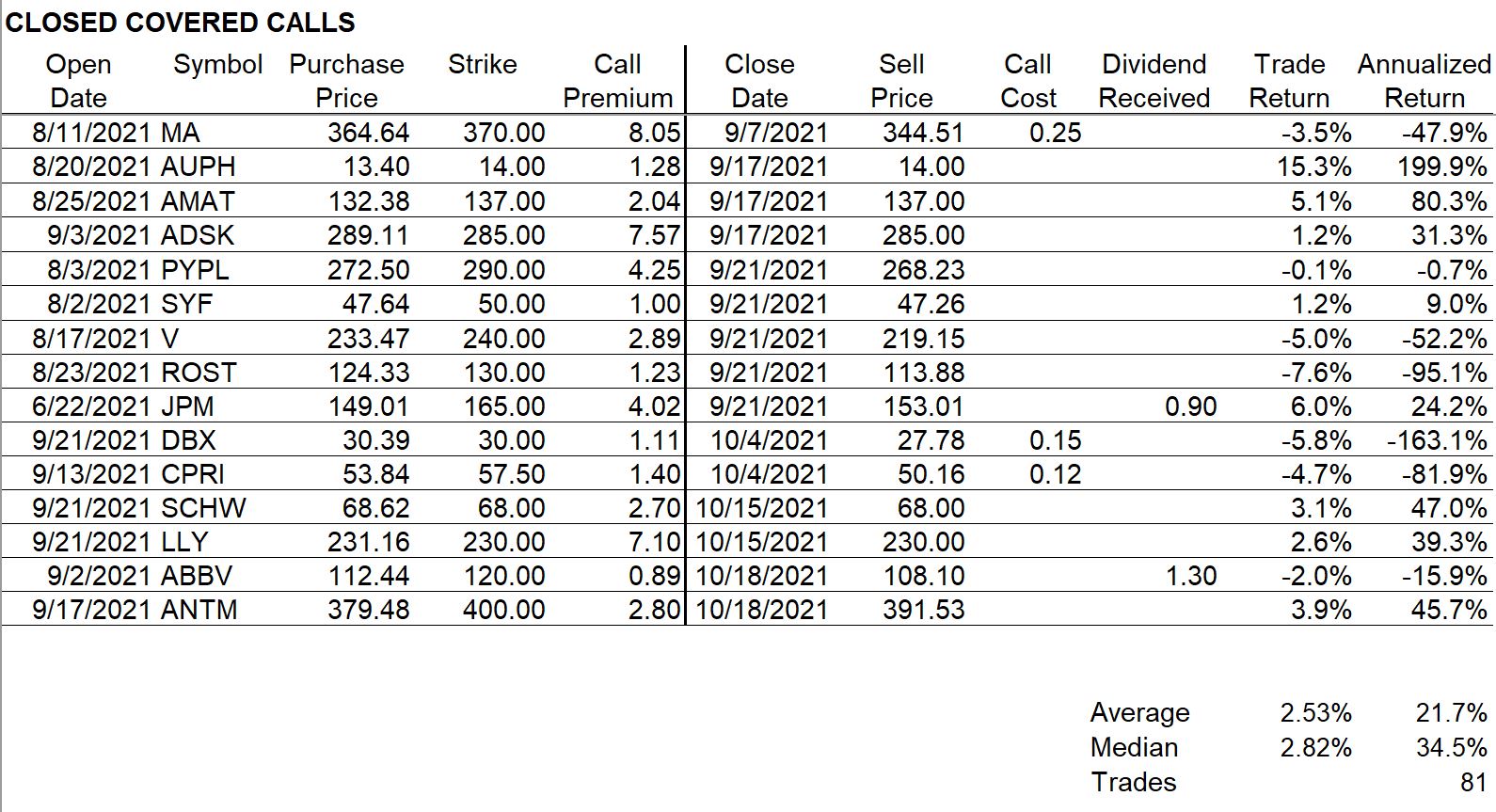 November 22
From an analysis of the performance of stocks that have passed my screens this year, I see three groups that have provided different levels of profit. I am going to label them Tier 1, Tier 2 and Tier 3 based on descending levels of historical profitability. When I have room in the US equity allocation of my portfolio, I will select Tier 1 stocks first. If there are no Tier 1 stocks that pass my screens, I will move onto Tier 2 stocks and then onto Tier 3.
Marathon Petroleum (MPC) – Shares Purchased
Marathon Petroleum is a Tier 1 stock selection.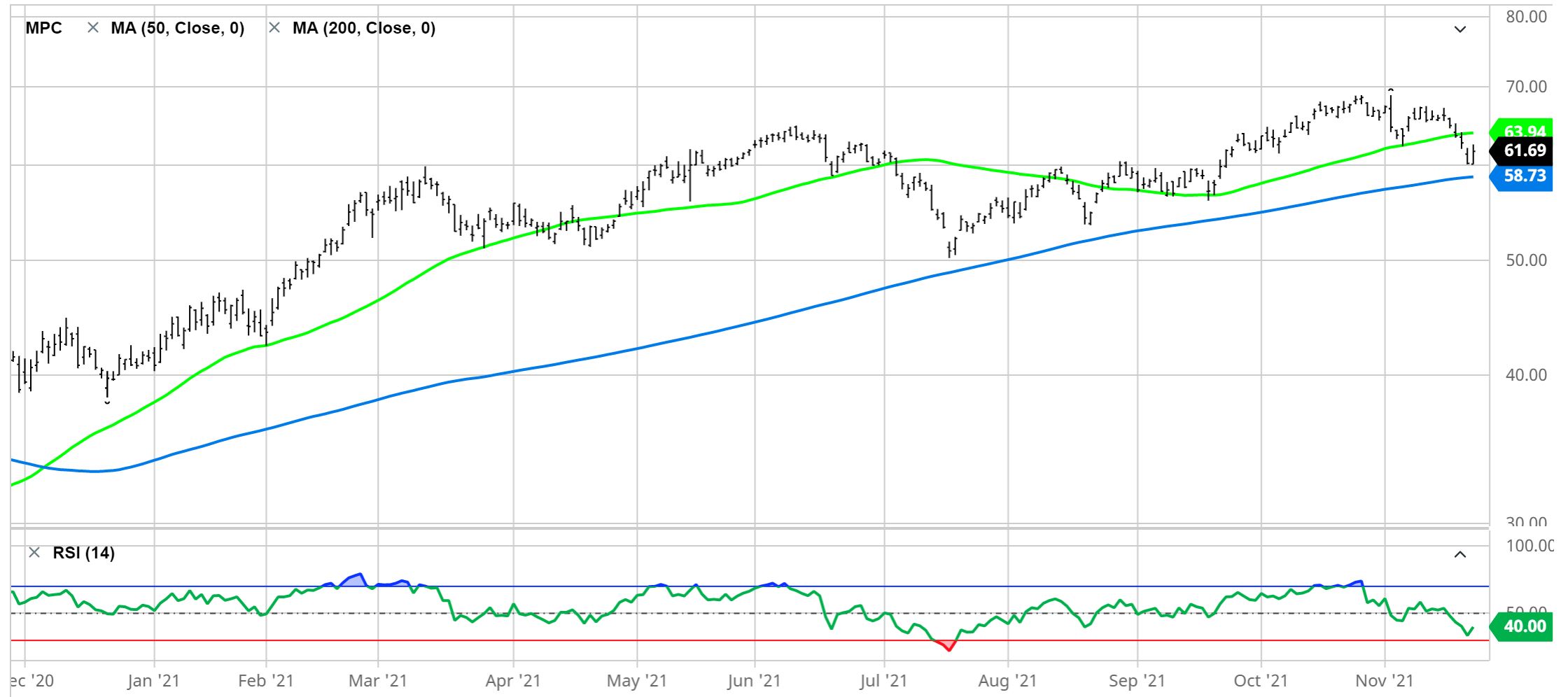 Schlumberger (SLB) – Shares Purchased
Schlumberger is a Tier 2 stock selection.
November 23
Alibaba (BABA) – Opened Naked Puts
This is a Tier 3 trade.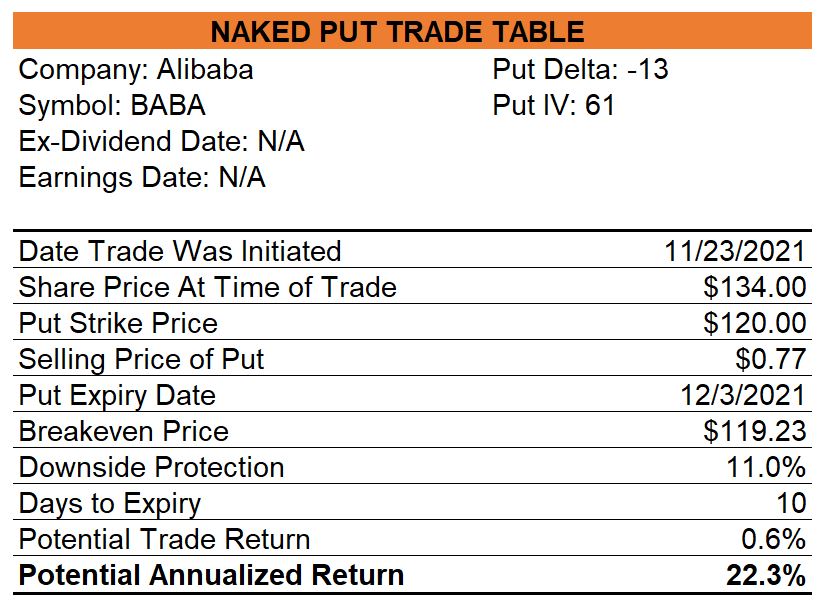 November 26
With news of the most recent COVID variant hitting international markets with a vengeance today, most stock prices declined and four of my trailing stop losses were triggered. Stocks in the oil industry suffered particularly large losses as the price of oil fell by more than 13%. My Cedar Fair, Marathon Petroleum, Schlumberger, and Teck shares were all sold for losses of 1.1%, 4.0%,  3.6%, and 4.3% respectively.
Interestingly, two Tier 1 stocks passed my screens today and they were both oil companies. Three Tier 2 stocks passed and one of them is Schlumberger. I'll watch the price action on crude on Monday and decide whether to buy stocks of companies in the oil industry.
With the sale of the four stocks mentioned above, I have room in my portfolio for the purchase of some US stocks on Monday.
Asset Class Allocations for ETF Investing
My tactical asset allocation model currently has allocations as provided in the table below.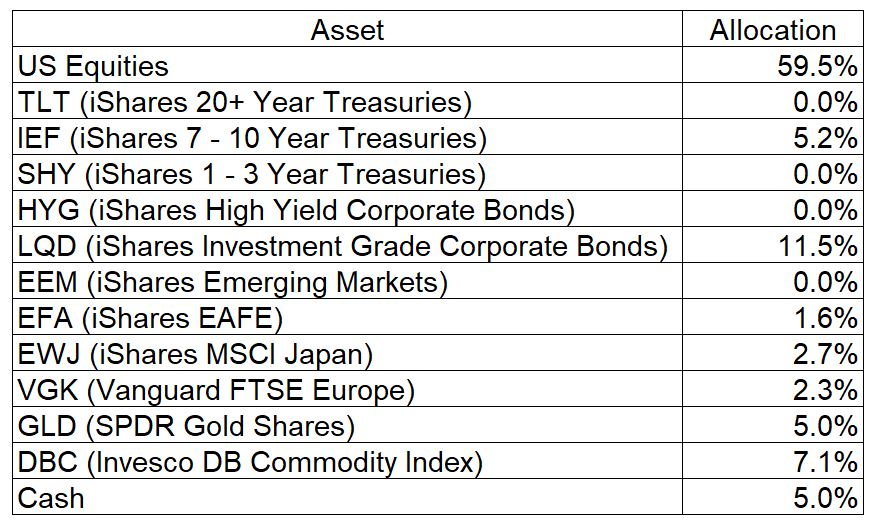 Open Trades
My open trades can always be viewed here.