May 02
Apple (AAPL) – Shares Sold
My sell stop was triggered and my shares were sold for $155.37 representing a 6.1% loss in 14 days.
Greenbrier (GBX) – Shares Sold
My sell stop was trigged and my shares were sold for $41.57 representing a 7.0% loss in 21 days.
Asset Class Allocations for ETF Investing 
My asset allocation models now have the highest allocation to cash since I began posting the table.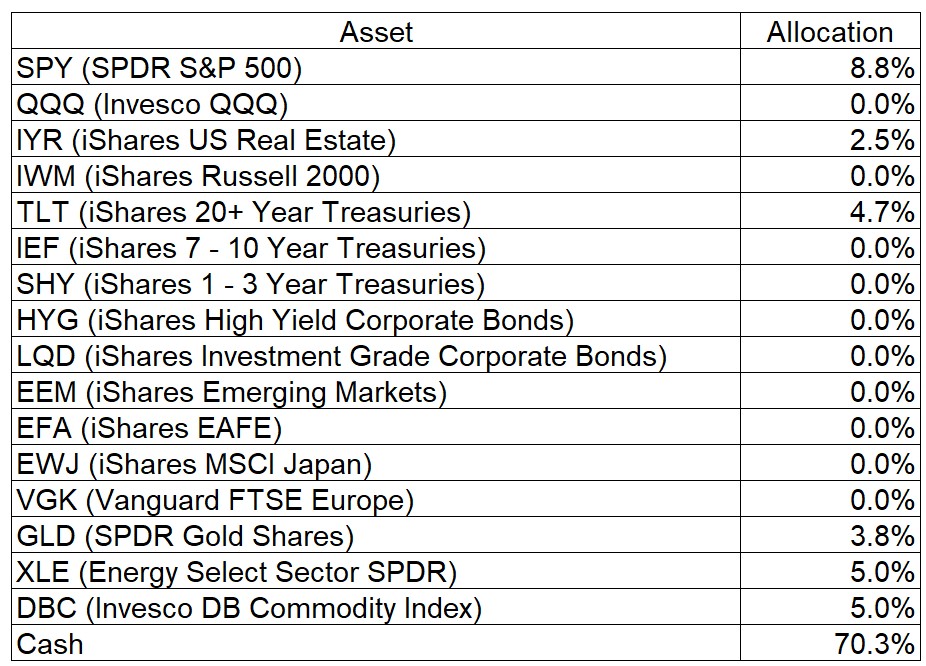 The average year-to-date performance of my asset allocation models is -1.3% versus -12.5% for the 60/40 portfolio. Over time, my models don't significantly outperform the 60/40 portfolio but they do have much lower drawdowns which is important to me. Many investing strategies are difficult to stick with in times of poor performance and I know that I am more likely to stick with the models I use because of the relatively low drawdowns.
I currently own no US stocks. My stock selection strategies have not been working in the current environment so I am reluctant to purchase stocks until I see an improvement in my strategies. I do track the 30-day performance of stocks selected by my strategies and will continue to monitor that as one way of determining when to begin buying stocks again.