If you followed my posts last year, I stated many times that stock trading felt too easy. It was easy to produce winning trades. This year is as unlike last year as it gets. I have had very few trades and they certainly haven't been as profitable as last year's trades. As the saying goes, "There's a time to trade and a time to sit on your hands."
Year-to-date, my tactical asset allocation model is down 5.3% versus a decline of 16.0% for the 60/40 portfolio. During orderly market declines, TAA models outperform as they go to cash. Should the markets rip higher, TAA models will underperform as they require time to move out of cash and back into the markets.
As for the YTD performance of the 60/40 portfolio, since 1976 this year's performance to the end of June is by far the worst of any year. The next worst performance for the first six months of a year was in 2008 when the 60/40 portfolio fell by 6.7%. The S&P 500 had its worst performance for the first six months of a year since 1970 as it fell 20.6%. AS for the Nasdaq, it fell 29.5% to the end of June. Very tough times for a trader trying to execute profitable long stock trades.
Tactical Asset Allocations
This week's asset allocations have the highest yet for cash at 79%.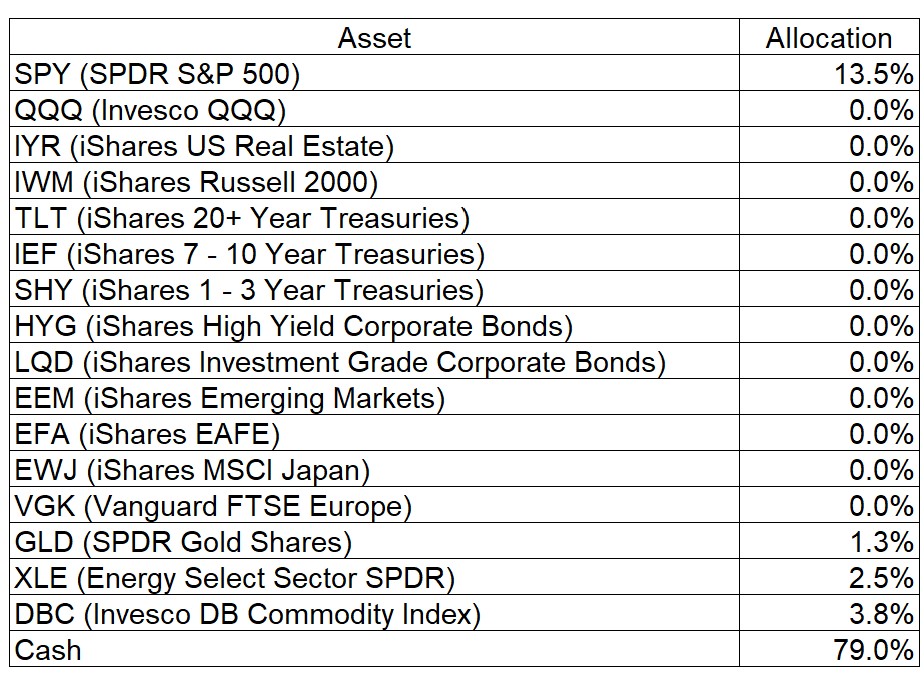 Open Trades
I have no open stock trades at this time.
Interesting Articles
The Higher the Vix, The Higher the Clicks (Michael Batnick)
 What's Priced Into the Stock Market (Ben Carlson)
The Mushy Middle (Joshua Brown)